Get an update on the LRT construction along the Eglington Crosstown Line and learn more about support strategies for your business.
Free to attend. Lunch provided. Return transportation from downtown Hamilton provided.
* This event is not open to the general public. You must be representing a business in Hamilton to participate.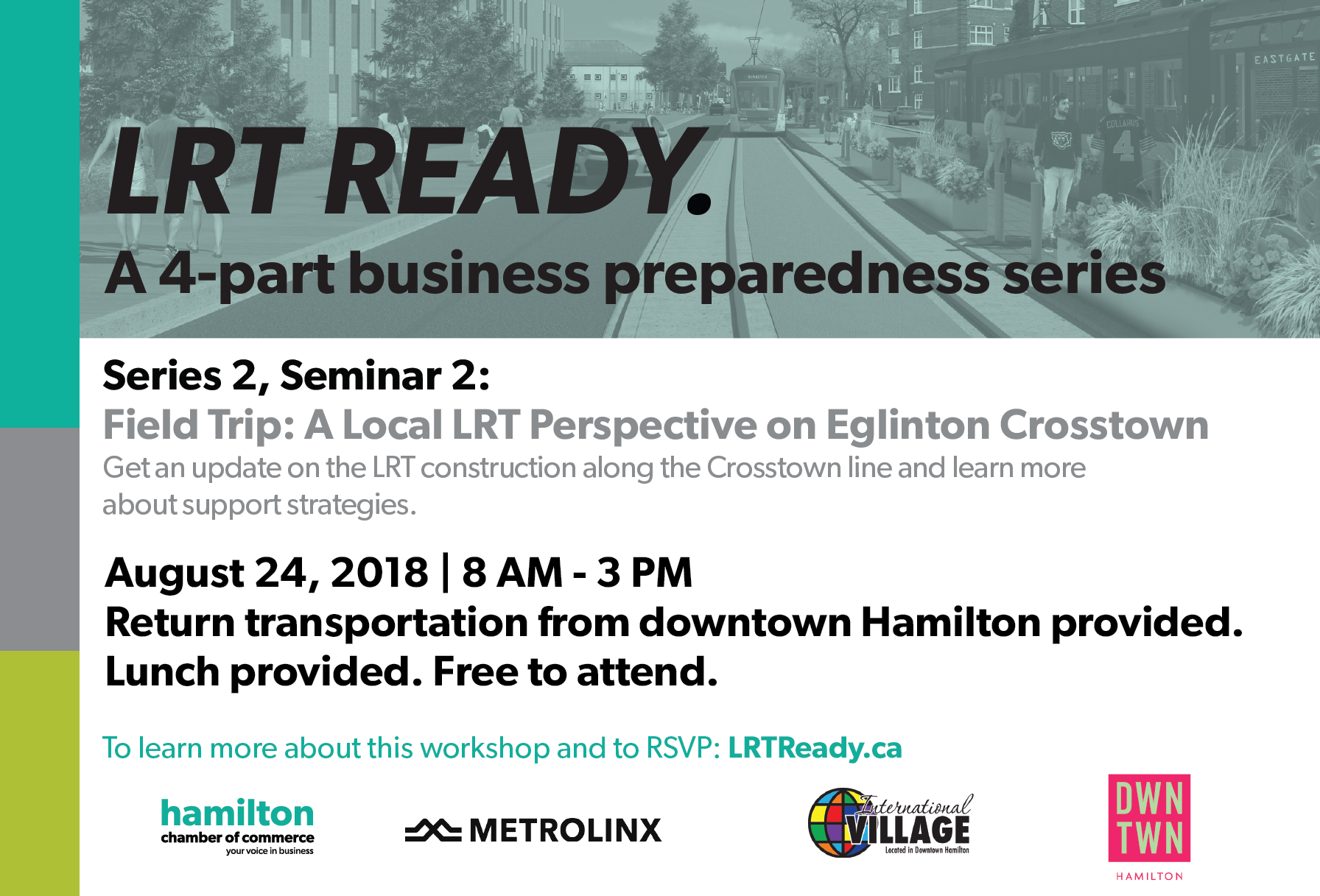 Location
Meeting location details will be provided closer to the date.
SESSION 1: Countdown to Construction
Event Date: July 19, 2018
Description: This session discussed the details of planned 2019 LRT construction, the role of the City, and the importance of marketing to mitigate any negative impacts.
SESSION 1: The LRT Big Picture: How to Prepare for Construction and its Impacts
SESSION 2: Field Trip: A Local LRT Perspective
Event Date: August 21, 2017
Description: Participants in this session took a field trip to the Kitchener-Waterloo LRT project that has been successfully implemented. The field trip included transportation by bus from Hamilton to the site location. This session focused on best practices employed by local businesses, BIAs and the community during the construction phase in that  community.
SESSION 3: Developing a Successful Customer Engagement and Retention Strategy
Event Date: October 12,  2017
Description: This session explored strategies and tools to assist in developing comprehensive customer lists and leveraging customer relationship management (CRM) software systems to build and maintain engagement with existing and new customers during the construction phase.
SESSION 4: Deploying an Effective Communications, Social Media and Online Marketplace
Date: November 16, 2017
Description: This session covers the benefits of social media, provides hands-on experience using various online platforms, and introduces attendees to the tools and strategies to build an effective online retail presence. A focus on search engine optimization allows businesses to understand how potential customers discover businesses online. A special emphasis is placed on the opportunities that exist through online retailing through effective web design to develop and enhance a new customer marketplace.